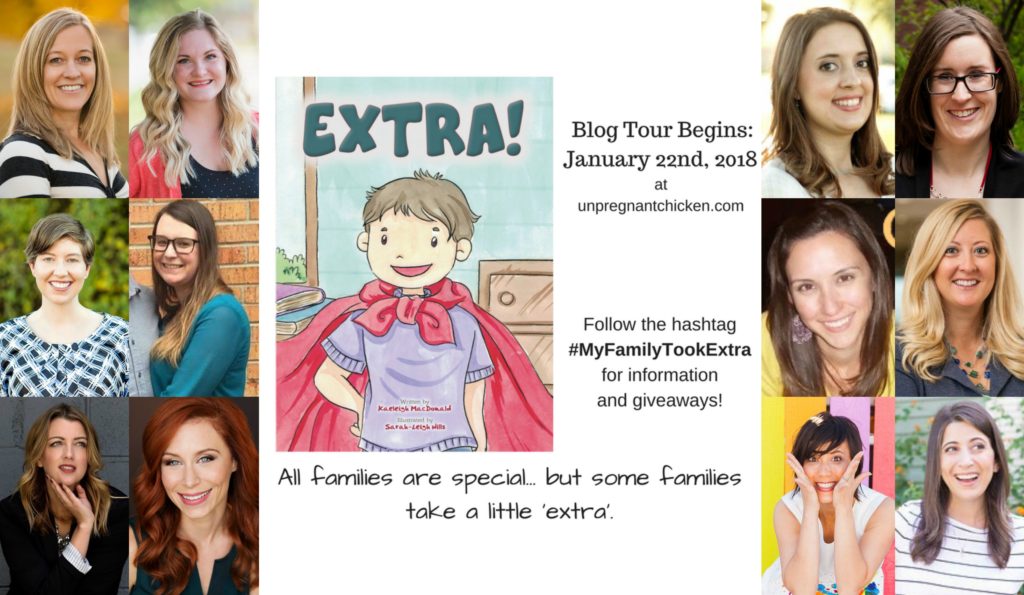 Hey Lovelies!
For the launch of my children's book Extra! I'm running a blog tour. A blog tour is like a book tour in that you travel around talking about your book, promoting and hosting giveaways. But becuase this is a BLOG book tour all of that happens online! I have a list of 12 fabulous bloggers that are all as excited as I am about this book and have decided to help me spread the word!
The blog tour will start the day of the book launch, January 22nd, right here on my home blog. I will talk about the book, why I wrote it, and how you can get your hands on a copy. Every day after that myself or the book will be featured on a blog- for 3 weeks straight!  The support I'm recieving from those who've read the advance of the book has been overwhelming and I am so hopeful that those of you who have become a family through ART after infertility will find joy and excitement in this story!
Here is the list of awesome bloggers with links to their blogs so you can check them out and follow them ahead of their post date.
Extra! Blog Tour:
Jan 22: Unpregnant Chicken
Jan 23: A Hummingbird Paused
Jan 24: Our Misconception
Jan 25: Fertility Matters
Jan 26: Our Beautiful Hope
Jan 29: Justine Froelker
Jan 30: Girl Tries Life
Feb 1: Lisa Danielle
Feb 2: Beat Infertility Podcast
Feb 5: In Due Time
Feb 6: Salt in the Womb
Feb 7: Amateur Nester
Feb 8: A Mama's Amusing Musings
There is also a hashtag associated with the blog tour, #MyFamilyTookExtra, that you can follow on all social media platforms. I am so proud to use this book as a uniting force for those people that had to work an extra long time and be extra patient while building their families. This book is meant to convey the special effort it took to become a family in a positive and educational light so that you can begin to talk to your kids about thier extra conception stories!
Join me here on January 22nd to discuss more about being "extra" and how you can share that special conception story with the littles in your life!
XOXXO,
The Chicken