Hello Lovelies,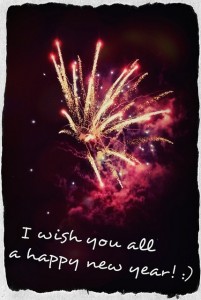 Well, it's here. Good bye 2014 and hello 2015!
I have to say, all in all, I am very pleased with how this past year went. No, I didn't get a baby, but overall it wasn't my entire focus either. When 2014 began I was pretty all consumed with the ache and need to have a child. I was feeling defeated, derailed and pretty desperate. I am happy to say that as 2014 rolls out I have found a better balance. I still want a child desperately but it's not taking over every minute of my life. I have worked very hard this year to get back some semblance of balance so I'll chalk that up to a win.
Therapy works, kids. Haha.
Having re-evaluated the past year and now looking towards the year ahead I, like everyone else, am wondering what it will bring. There is always so much uncertainty around starting a new year, especially while trying to conceive. But hopefully there is excitement as well! I have so many fertility related questions bubbling around in my head.
Will we finally become parents in 2015? How will my body respond to IVF drugs? Will I need to use donor eggs? Will we do three full cycles? Will I want to stop before then? What happens if we don't have a baby?
But I need to remember…
2015 is bound to be a huge year for us whether we achieve pregnancy or not. There's more ahead!
Click To Tweet
Like…Will I finish my novel on time? Will I snag the agent I have been cyber stalking? Will any publishing houses be interested in what I have to say? Can I land a post on HuffPost this year? Where will we travel to?
…See?
Balance.
Perspective.
I am really, really trying. Some days I do much better than others. Don't we all? So here are a few goals I have set for the coming year in relation to trying to conceive. Feel free to co-opt any and all that work for you. And as always…
Remember, dear TTC community, to take "baby steps" (pun intended) with your resolutions.
Click To Tweet
My 5 goals for a Happier, Healthier 2015:
1. Use Dr. Google less: I'd say don't use it at all but someone would call bullshit. Google is amazing, and can be incredibly useful. I have learned a LOT on this journey from "the Google". However, there is definitely a limit. No one needs to be worrying about if their heart burn is really a heart attack or whether their HCG numbers suggest ectopic pregnancy. Sometimes it's best to just walk away. I'm talking no more Googling my two week wait symptoms erratically at 4 am. That kind of thing. You know, as I said before, balance.
2. Be more engaged and supportive with the online infertility community: The community I have found through blogging seriously changed the way I view being infertile. It drastically improved the trajectory of this year and made me feel less alone. I feel that since it has become such an integral part of my day to day life that I need to give back. I have a few interesting projects in the pipes for 2015 that will help me give back on a larger scale, stay tuned. But I am also talking small scale… I want to comment on more blogs, be more openly supportive on social media and add a links section to my own blog. This will help to give back to others what I have gotten from them.
3. Stick to my IVF diet and workout regimen: Eating well and having healthy expectations for working out is something I began to cultivate in 2014. I seem to have found the right combo for me. Maybe all I needed was the IVF cost hanging over my head to really want to get healthy. When you are willing to pay that much having the best shot possible is important. Whatever the reason, I have recently overhauled my diet and will be continuing to workout this new year. Hopefully, the combination will lead to a healthier more fertile me. I am less concerned with the numbers on the scale, a big step forward for me, and more concerned with how my body is performing. Small changes, over a long period of time, lead to big changes.
4. Stick to my self-love goals: I set some pretty intense goals to improve my self-love just before the Christmas season. So far it has been going pretty well. I am loving myself more fully than I have been the last few years of trying to conceive. I want to keep at it in 2015 and get to know and love the real me more and more. I may never have children, and I want to know how awesome I am even if I have to accept life without that.
5. Be more engaged with the journey and less focused on the end goal of producing a baby: As an infertile couple in our third year of trying there are times when we find it pretty difficult to step back from this situation and live in the moment. Sometimes I get very caught up in when my next ovulation will be. Or when I'll be able to test. Or if the cycle will work out like I want. I am working very hard to give myself a little more distance from the whole trying to conceive mess. I need more sanity and joy in the present.
It's important to factor in some distance while TTC. Keep focus on the positive this year.
Click To Tweet
So as 2014 draws to an end I want to thank you all for your contribution to making this year great. You've been a source of comfort and a wake-up call when I needed it most. Here's to 2015! May our best years lay ahead!
Best Wishes,
Unpregnant Chicken
Happy New Year: 5 Goals For A Happier 2015 While Infertile