Hello Lovelies!
I am going to rant a little in this post… ok, a lot… so bear with me. Today, as I scrolled through my Facebook feed a few memes caught my eye. The first one was harmless enough.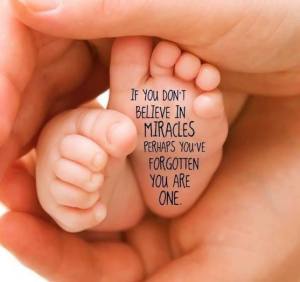 After all, I've said pretty much the same thing. We are all miracles! And my struggle to become pregnant has definitely given me a new appreciation for the delicate balance that must be struck to nab yourself a baby. There is only a 25% chance of conception every month! If you time things perfectly! So it really is incredible that anyone manages to get knocked up at all. Not to mention, those who it happens to accidentally! However, this cute and relatable meme was immediately followed another one.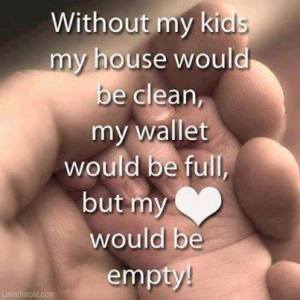 And I just saw red. Maybe it is because it is Monday. Maybe the stress of the last few weeks has me damn near my breaking point emotionally. But I just snapped.
Context: This meme is a reaction to child-free movements that state women without children are happier because they have clean homes, and more money and more time… mother's find this sentiment highly offensive. So, they strike back wanting child-free people to understand that they are living better lives with children than they could have otherwise. By way of really driving this point home they pen stupid memes like this one.
While yes all children are miracles, and no doubt many enrich their parents lives, my life is not "empty" by comparison! UGH!! These tiny memes are just so smug. I am sure these memes were not posted on purpose to hurt anyone. No one thought what it might mean to a person who doesn't have kids but wants them. So listen…I'll break it down for you… I am trying to become a mother. I do expect that I will enjoy my transition into parenthood, as it is something I have longed for. But it does not mean that these last few years, while we have been trying to have children, have been empty and without meaning. It is seriously offensive for you to imply that it is! A life without children is not in and of itself deficient! So, while I wait to be granted my own tiny miracle, I want you to just shut up.
You are probably just trying to validate the choices you have made by saying things like this. But it is callous and ridiculous to make such statements. Even in your hormone addled brain, you must be able to remember back to a time before you became parents and remember that things did, in fact, matter. While kids are great, and I want to have them, please stop acting like entitled asshats. Gloating about how amazing your lives are as parents and how those without children are somehow deficient makes you a tool. Also, while I am at it, let's talk about how parents seem to think non-parents are stupid…
Don't assume that, while I have not yet started my own journey of motherhood, I can't understand yours. Why do you assume that I cannot understand that it sucks to get no sleep? Or that having not showered in days is crappy? Or that the deep love overflowing from your heart is incredible? People think that becoming parents is incomprehensible to people who are not yet in that club… I'm not sure why?! It's like you have amnesia about the way things were before you decided to become parents. It's infuriating! If non-parents didn't understand what parenthood was about why did they choose to become parents? How did you know that you wanted children?!
Oh! Is it because you could VISUALIZE what motherhood would be like?
Is it that you could use your IMAGINATION to think about lives that were different from your own selfish existence?!
Oh … you could?!
Geez, that's funny… Me too!!! I also have an imagination. I also am capable of picturing being a mother. So spare me the pitying looks and for god's sake don't say that I just "can't understand" something because I am not a mother. Don't patronize me! I have a Masters level education and work on a daily basis with small children. I am currently childless, not dumb. You do not need to use small words for me to grasp your life now that you are a parent.
Also, watch yourself when you say things to an infertile woman, or any childless woman, while they are interacting with a baby. If what you say in any way implies they don't know what they are doing because they "aren't a mom" you are being an asshole. This kind of thinking is an extension of the above, I am childless not stupid! Please do not think for a second that I can't figure out what to do simply because I haven't pushed a baby out of my vagina, or been kept up all night by a puking infant! If I'm holding a baby, and it starts to cry, I will throat punch you if you say "better let a mom deal with it… we know what to do." Bitch, oh no you did not!
This is even more infuriating as I am a teacher and a nanny! But is probably similarly offensive to any infertile. Take your smug "holier-than-thou" attitude and check yourself. Stop pretending something changed in you when you birthed your child that now means people without kids can't understand you. Yes, yes, of course things changed. They altered in a perceivable way, I am sure! But the way that they altered is more profound for you than for anyone else. Your name is mom now, you didn't move to mars! Stop acting like you did! And stop treating me as less of a woman, wife, human being because I don't have children.
I want to be a mother and you are being a callous ass when you tell me that I won't understand something or fully appreciate my life before I have children. And boy do I hope what you're saying isn't true! Because there are no guarantees that I will ever get pregnant or start a family at all! And I certainly intend to enjoy all the parts of my life in the mean time! No, I do not yet have children. But I understand yours just the same. No, I do not yet have children. But my heart is anything but empty!
So, while I wait for my miracle, please shut the hell up!
Love,
Unpregnant Chicken