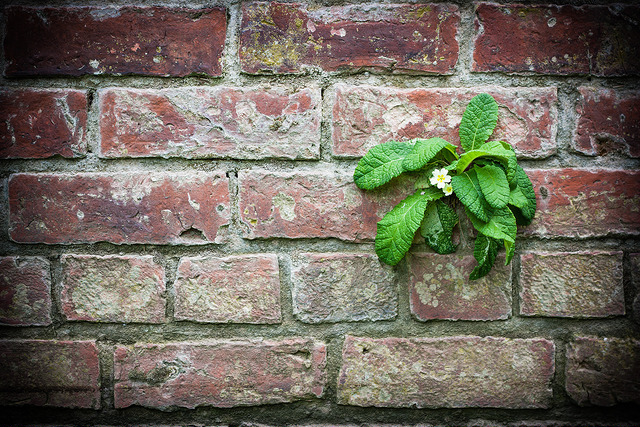 Hey Lovelies,
Welcome to your March Squawk Box! YAAAAAAAAAAAY!!! *clapping and running around maniacly* Y'all did it! Thank you so much to those of you who reached into your hearts and pulled out stories for me when I was flat out of them. Crisis averted for a few more months.
Still, this thing only works if you keep on sending… So send away. Tell me your stories. Write about any part of your infertility journey! Send them here.
Today's Squawk comes from Amanda. I don't know much about her, other than she reads the blog, so she's probably pretty rad. I do know, from her story, that she has been through some really tough shit on this journey and that she's tough as nails and resilient as hell! That's what the picture today symbolizes. Being strong under difficult circumstances. Blooming where you're planted… that sort of thing. She recently sent me an update on her husband's condition to add to the story: "His cancer was diagnosed as all seminoma. Which is good because it can be treated and cured with chemo and radiation. It will be a rough go, but the prognosis is excellent." Thank god! May you both be strong and may your road trend easier from this point on. Here is the rest of their story…
XOXXO,
The Chicken

Curve Balls
Written by: Amanda Roy
Published with the author's permission.
Life has a way of throwing curve balls.
Our story isn't completely unknown to the Canadian infertility community, we have been featured in the #1in6 page of Fertility Matters twice. But there's a new twist in 2017.
To recap, we got together in July 2012 when we were 33 (me) & 37, then waited a year to start trying to conceive. Nothing was happening for six months, so we got tested at the local fertility clinic, and he was diagnosed with severely low sperm count, likely due to, or a side effect of, having testicular cancer in his late 20s, to which he lost his left testicle (but he may have been subfertile even before that). In the meantime, we focused on trying to acquire funds to do IVF+ICSI as, at the time, they gave us a 40% chance of live birth. That was 3 years ago.
Since then, we have had known sperm donors help us privately, and managed to acquire a vial of donor sperm which I did an unmedicated insemination with in July 2015. It didn't work. I claimed it in my insurance (there is a lifetime cap for each insured person), and I now regret this, because I wasted nearly half of mine by doing so.
We got married on July 4th, 2016. 🙂
Exactly six months later, we went to the emergency department; he had lower left abdominal pain, we thought he had diverticulitis. They did a CT scan. Intestines were fine. But they found a 10 x 7 cm mass around his left iliac artery (off the aorta toward his left leg).
As of January 26th, the biopsy results are not quite complete and he's supposed to begin chemotherapy on Monday, but they are 99% sure it's seminoma, which means that the testicular cancer has returned. He's one of the 1.4% of testicular cancers that come back after 2 years following initial treatment (if it comes back, it's usually within two years). He had had all the regular tests and was declared free of it in 2009.
The good news is if it is indeed seminoma, chemotherapy and radiation or surgery should remove it all. We are going to demand a yearly CT scan for the rest of his life… but they think he will make it.
We had sperm frozen before in preparation for IVF+ICSI, as his count was deteriorating in 2015, and yesterday we banked more.
Once we get past this, I'm very concerned that I'm starting to go into perimenopause. I'll be 38 the end of March. He's 42. My paternal aunt was 39 & 42 having her kids. Mom had me around a week before turning 35. I know a couple of women in their late 30s & early 40s who became mothers.
Breast cancer is in my mother's side of the family. It took Nana (we figured she tried to hide it for too long even if there was a lump, and Alztheimer's may have made her forget), and my Mom battled with it (and has won so far, caught early when she was 70). Every pain or itch in my breasts or underarms terrifies me.
Yesterday was a Canadian telecom Let's Talk (about mental health) Day. This journey, plus this new curveball, has caused us very much stress and depression, and it's likely going to get worse before it can get better. I am seeing a psychologist. He had been in better spirits about infertility than I am, he is more able to accept not having children and having a fulfilling life… before this.
All we can do is take it day by day, and hope the biopsy results come in and confirm seminoma before tomorrow (Jan 27th) so he can start chemo & radiation or surgery, recover, and go on with this goal.
It might just give us something to hope for… a light at the end of this tunnel.
Amanda