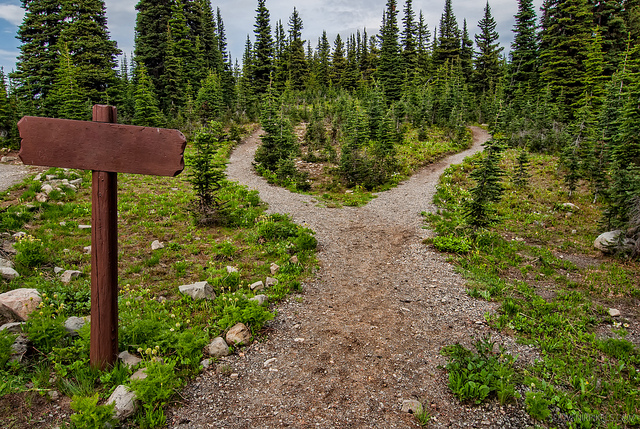 Hey Lovelies,
Welcome to another addition of
Squawk Box
! I am so stoked to say that our amazing author S.W. from a previous Squawk Box-
here
– has decided to write again! She has invited us back into her ever evolving journey through the land of IF.
I'm grateful to be able to follow along with her as things shift and change. It's such a nice reminder that the people who write these stories are real people, real people trying to conceive, their story doesn't end when they sign off.
Here is the latest chapter in S.W. journey. Big thank you to her for choosing to share with us once again! The picture choice is obvious. Sometimes, we arrive at a fork in this path. Which way do you go? Especially when there are no signposts to guide you.
XOXXO, The Chicken

Different Paths
Written By: S.W.
Published with the author's permission.
Since my last Squaw Box back in October 2015, not much has changed. Then again if you look closely, EVERYTHING is about to change.
So, let's begin with what has been going on since that entry…
October, November and December came with no positive pregnancy tests and lots of sad feelings. I became more open about our struggle with infertility and decided to stop hiding as much. Am I still hiding some? Why yes, I am. If only because I'm a private-ish person deep down. I started talking to Hubs more frequently about adoption/fostering.
December decided to slap me in the face since we had a family friend announce that they were pregnant with their first child…and not very excited (at least Mom to be wasn't until just recently).
January and February came and went. I put in for a referral to my RE's office to get started again on TTC. However, I NEVER heard from them. Hubs says to call and get info on fostering/adoption locally. I never call. For some reason I can't bring myself to do it…yet.
March came and went and I realized that it had been one year since my Lap and I still had NO relief from the terrible symptoms that come with my period. I decide that I am going to call about fostering/adoption. Then I never do and decide to focus on what to do next with TTC. In the end I decided to make a Well Woman checkup appointment with my OBGYN to discuss my period, it's symptoms, and the RE's. Which brings us to April…
April. Oh what a month April was! I turned 27, saw my OBGYN and she and I made the decision to put me on the smallest dose of birth control out there to see if that helps with my awful periods. At this time she has also put me on a 4 month ttc break for MY sanity, Hubs' sanity and our marriage. This is where things get interesting…Finally, after months of going back and forth on whether or not I should call our local DHHS office about fostering with the intent to adopt, I finally did it. I called 2 days after my birthday. It's something Hubs and I always talked about doing and have always wanted to do…in part due to my own Mom's time in Foster care when she was 6-9 years old (she lost her own Mother to Tuberculosis and her Father abandoned her for another bottle of Whiskey), then of course our nephew was born INTO foster care (his Birth Mother was in Foster care and had him incredibly young). So as you can see, it's something that is very much a part of our family dynamic. The doctor did tell me to be on a TTC break, but didn't tell me to stop the journey into parenthood all together. Loop holes.
We decided to be open about this part of our journey right away. We needed to tell our families ASAP because we were going to need more support for this journey than ever before. My SIL seemed apprehensive (I could tell by the tone in her voice), but my in laws and my parents were over the moon. 
So we met with the caseworker, went over all of the info and decided that yes, we want to do this. We decided to opt for a 0-2yr age range. And that we aren't opposed to taking on more than 1 child at a time (only in a sibling format). I then decided that I should tell my employer. I was very open and honest from the start with my Supervisor (I am a preschool (assistant-we don't necessarily like to use that word because we all feel that we are equal) teacher) and it could potentially affect my ability to be at work a little this upcoming year. My supervisor was/is extremely excited for us and even did a warm connection for me and another member of my district that also dealt with infertility, fostering, and adoption. So now I have even more support!
Is it going to be difficult? Most definitely.
Is there a chance that the child will go back with their natural parent(s)/family? Of course.
Even with all of that looming overhead, I am still 100%, no, 1000% excited to give a child the life that they so deserve. I am excited that my family is going to have another little someone to love on and cherish. I am excited that we get to make a difference in the life of a child who, more than likely, has never experienced this before.
When I made the decision knowing all of that, I honestly felt this warmth and peace come over me. I would under no circumstances say that I am an overly religious person, because I am not. However, when I made the decision to call, I not only saw a red cardinal (they say when you see a cardinal, that means someone that you love who has passed on has come to visit you), I swear the sun burst through the clouds and covered me with a warm light.
So here we are in May. May 1st to be exact. Gearing up to take this huge leap! I am nervous, and excited. As much as I would LOVE to be pregnant, I am even more excited to be a Mom and to see Hubs FINALLY get the chance to be the Dad that he is meant to be.
We even have a Beer & Diaper party to attend. Normally that would make me want to cry and to not show up at all costs, but I refuse to let my infertility get the better of me any longer. I am done with that. Maybe it's because I have finally made my peace, or maybe it's just because I have something else to focus on now; but either way, I feel good. For the first time in a long time.
We are no where near the end of our ttc journey and won't be for a long time. I just have a different path to go down at the moment and that's ok.
In fact, it's pretty awesome.
S.W.