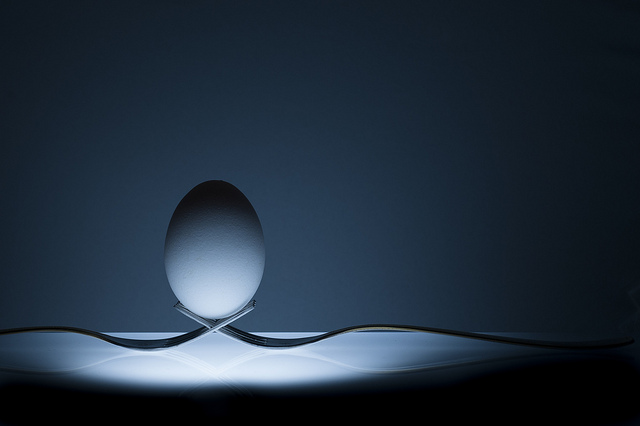 Hey Lovelies,
So, last week I published an opinion piece I had written a while ago about Egg Donation. There has been a lot of talk about egg donation lately and I love it! I think egg donors are a fab way to grow your family, as well as sperm donors! Right now there is more talk about egg donors as it is relatively newer than sperm donation and really still has some social question marks surrounding it. Let's explore how egg donation works and some of the questions floating around about it!
The facts:
-A cycle involving egg donation is still IVF. Costs are similar. Treatments are identical. They are just split between two ladies.
-A couple may choose to use egg donor IVF to conceive if: their own eggs are of low quality, are of low quantity, if her reproductive organs are missing or damaged, if the female partner has known genetic issues that prevents conception or a successful pregnancy, if the couple has tried multiple failed rounds of IVF where some unknown female component is thought to be the cause, or if the couple in question is a gay male couple who will require both a donor and a surrogate to achieve parenthood.
-In Canada, it is illegal to sell your eggs to another person. Eggs are considered organs and selling them makes you part of the black market organ trade. You can, however, donate altruistically to another person. So if your friend or your sister is willing to donate eggs, for no compensation, that is acceptable.
-You can do donor egg IVF in Canada using eggs that you have purchased from another country. Typically, the United States (because they are closest). You are still allowed to use them as long as the money exchange isn't with a Canadian donor. Typically, these eggs are then frozen and shipped across the border in a medical grade ice-chest-type compartment.
-You can also elect to travel abroad to where your donor lives and do an unfrozen cycle there so the eggs are fresh.
-In Canada the typical cost for donor eggs is 6,000-8,000 dollars for "guaranteed" 6 eggs (cost to purchase the eggs as well as the drugs for the donor). This is on top of the regular costs for an IVF procedure at your clinic.
-Once the eggs are removed from the donor's body they are the legal property of the intended couple. Whether or not they plan to use a surrogate. The original egg making human no longer holds any reproductive or parental rights over the gametes.
The procedure:
Step One: Choosing your egg donor! Here is where you look through donor profiles (very much like you would for a sperm donor) and choose a woman whose characteristics you like the most. Some people decide to go for a like-like donation, where the donor chosen closely resembles the qualities of the intended mother/parent. The donor profiles usually provide both physical and non-physical traits of the woman. Egg donors are ideally young, anywhere in age from 18-28 usually. This is because egg quality declines with age.
Step Two: Solidifying the match. Just because you have chosen an egg donor that you are happy about doesn't mean they will for sure end up contributing the eggs. At this point the agency (donor bank) will contact the potential donor and let them know they have been chosen. They then have the opportunity to accept and being treatment or to decline. This can be a tense wait for the intended parent couple! You love everything about this woman and hope she is still willing to donate! Be patient, hopefully she feels like cycling right now and its not finals season!
Step Three: Cycling. Here's where it becomes a lot like an IVF cycle… because it is one!
The donor portion: the donor that has been selected is started on her IVF regimen. She will being Birth Control Pills (BCP) to put her ovaries to sleep (down-regulation) and to allow the time for the intended mother to sync her cycle if they are hoping for a fresh transfer. After BCP the donor then begins administering stimulation medicine so that her ovaries produce multiple eggs for retrieval. This is exactly what any woman would be doing in an IVF cycle before egg retrieval. Just in this case the woman doing the stimulating won't be the one getting pregnant. Once the woman's eggs are large enough the trigger medication is given to mature the eggs and she is scheduled to have them retrieved in the same manner as any other IVF patient. That is… with a needle.
Recipient/intended mother portion: She will also be given BCP either to sync her cycle with the donors for a fresh transfer or to lull her body before a frozen transfer is done. Then the recipient follows a protocol very similar to that of a frozen embryo transfers. Whereby she skips the stimulation portion and goes directly into estrogen and progesterone medicines to prepare her uterus for the embryo.
Transfer: The father's sperm and the donors egg are allowed to fertilize naturally or through ICSI (where the sperm is inserted into the egg directly) and then allowed to grow in a petri dish just like in a typical IVF cycle. The embryos are then watched to track development and the transfer is made on day 3 or 5. Typically with donor egg cycle's two embryos are placed back into the intended mother's uterus to ensure a higher success rate. This is done because it is a bit of a logistical and financial nightmare that most people would like to avoid a second time. If there are extra embryos created and thriving on the day of transfer they are frozen for later use. They belong to the couple and the egg donor will have waived all rights after retrieval is done.
Step Four: PUPO! Now the couple is pregnant until proven otherwise just like in all IVF cycles after embryo transfer! The babies/embryos created are belong to them.
SIMPLE, right?! I mean if you already know how IVF works then, yes, it is pretty straight forward. So, why all the hubbub? Why is this news worthy… Why are people so much more leery of egg donation than they are of sperm donation? What are some of the societal impacts and the like? Glad you asked.
Why people freak out and some facts to sort that out:
1. It isn't really your baby: Hogwash. Did you care for it? Love it? Make sure all of its needs were met? Ergo–> Parent. This is a thing that comes up with sperm donation too. And adoption. Mostly I think its horse shit. BUT,  it's an individual feeling that each couple must decide on their level of comfort with. No the mother is not BIOLOGICALLY related. But that alone hardly qualifies you to parent. Still, this is up to each person's comfort level.
2. What if the donor turns up and wants to claim the baby: Basically, impossible. The donor signs away all rights to the child before they are even a harvested egg. The entire procedure is done under the legal assumption and condition that the couple has full legal rights to these embryos and any resulting babies. Also the donor does not retain personal information on the couple unless there are special instances.
3. You don't know what you're getting: Mostly this is mitigated through all the hoops that a donor has to jump through. Full medical and psychiatric history and checks. Often times personality profiling and academic screening are provided as well. Obviously, things can slip through the cracks. But there are many checks and balances in place to prevent lying and deceit on the part of the donor. Basically your best bet is to find a great clinic that has a great reputation. That means they know what the hell they are doing and hopefully screen like the CIA.
4. The egg donor doesn't understand what they are doing: Plausible. There has been some evidence to suggest that some donors do not fully comprehend the risks involved in the egg retrieval procedure or that they were uninformed about potential drawbacks to egg donation before doing it. The best way to ensure you are behaving ethically in this regard is to go through a reputable donor clinic and to pick a woman who is over 23-25 that way she has a fully functioning frontal lobe 🙂 .
5. Children aren't designer handbags: Oh yes the old "let's not play god" card. Bullshit. Bullshit. Bullshit. This stems from the idea that if you can't biologically have your own kids you're not supposed to. It also has to do with the fact that you can pick your donors characteristics. Ok first off, fuck those people who think because you can't conceive without help means you shouldn't. Not. Their. Call. Secondly, you pick your partner by similar criteria when you start dating. I'm not designing a child any more than I was when I got married. I won't even go further on this one. Because it's mostly prejudicial and I refuse.
There you have it! This is a large topic and I could have covered more in this post but I am running out of page space and brain power and so this is where I leave you. As stated before I think donor options, both egg and sperm, are a great way to grow your family. Hopefully, you understand it a bit more now. Hopefully, if this is how you have chosen to grow your family you found the information truthful and unbiased! There you have it folks, SCIENCE!
XOXXO,
The chicken