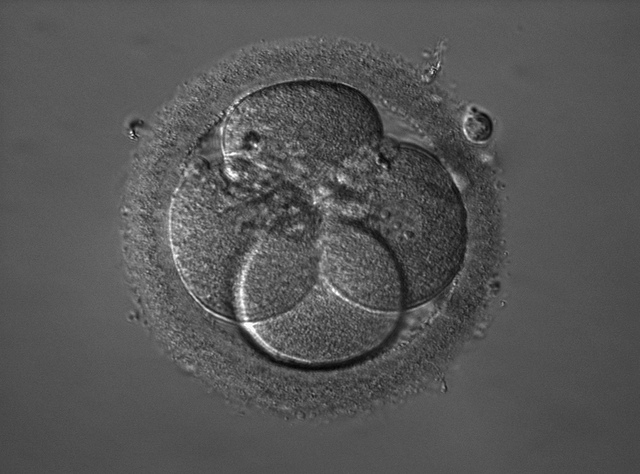 Hello Lovelies,
First and foremost, thank you all for being such an understanding group of chicks. This has been a crazy-ass time and I was seriously thrown for a loop with my emotions this cycle.  I still don't know if this IVF worked or not. We haven't made it to our test date yet. I can say, however, that I'm ready to start sharing again. I've gained enough distance to breathe and not feel overwhelmed by it all.
Still, to be clear: I request no private Facebook messages. As I said, I truly don't know if anything took this time. I will not give you information via Facebook that I have not already posted here. If I don't contact you with information directly I can promise that reaching out will not help you.  Restrain yourselves, please. Thanks, much obliged.
When I left off I'd just survived my egg collection and knew that 6 of the 7 mature eggs had fertilized. Now, let's talk about embryos! I found that this was the most intense part of the IVF process for me. Once the eggs are collected from your body and put in a dish to fertilize it's all out of your hands. At my clinic you get a phone call each and every morning where they update you on your tiny embryos progress. After our egg collection we had six embryos in a very early stage of development. At this point things got REALLY emotional.
I had six embryos. I had six mini babies. I knew all would not survive the full process… Cue melt down.
I had to do some serious soul searching at this point… which I will cover in a future post. But, suffice it to say, it was so much harder to imagine these tiny embryos and not know what they were doing all the time. So here is a run-down of the number and growth of our embryos leading up to transfer.
Get ready...Here comes the science!!
Click To Tweet
Day 1 after egg retrieval: From the 7 mature eggs 6 fertilized and were at one cell. At that point these one celled embryos were called zygotes. The sperm and the egg have merged into a combined one cell with two nuclei (the brain of the cell) one from the egg and one from the sperm.
Day 2: We had 5 embryos dividing. 1 embryo was still at one cell. Once the combined sperm and egg DNA start dividing and they are no longer zygotes. They are now known as a whatever-number-of-cells embryo… so on day two I had 5 multi-celled embryos.
Day 3: We had 6 embryos dividing again. 4 of them had eight cells and were rated excellent quality. 1 had three cells and was rated average quality. 1 had two cells and hadn't progressed enough to be graded. They are all still known as however-many-celled embryos…
Are you keeping up so far? Good. It's about to get a little more complex…
Click To Tweet
Day 4: We had 4 embryos dividing. 2 had arrested. All 4 that were left were excellent quality and had reached the morula stage. Here is where things get really interesting! To make the jump from an 8-cell embryo to a morula (16-32 cells) a few things have to happen: First, the cells need to be sound enough in their own DNA to keep dividing. You see, it's at this stage that the cells stop being powered by the eggs own mitochondria (power house) and start to be driven by the mitochondria that are now located in the baby's own DNA. So making it to this stage is no mean feat and shows that the embryos DNA was functioning properly so far.
Day 5: We had 4 embryos still dividing. 3 at blastocyst stage and 1 slightly behind. This is a big, big deal! Huge! In order to become a morula the embryos had to figure out how to keep themselves going under their own steam, but to become a blastocyst the cells had to figure out how to differentiate! They must change from being all the same type of cell and start to become two distinct types: cells that will become the placenta and cells that will become the baby. It's very cool to reach this stage! A lot of potential baby embryos don't make it this far. This means that ours are strong.
Day 5 was also our transfer day.
We transferred back 1 high quality blastocyst and right away were able to freeze 2 more.
Click To Tweet
Day 6: There was a final embryo on day five that was not far enough along to freeze so the lab chose to culture it one more day to see if it would still be going strong. It was and was frozen as well! Yay!
Summary of the IVF cycle: 7 mature eggs. 6 fertilized, and of those 6, 4 survived the entire process. We transferred ONE (day 5 hatching AB blastocyst, for those of you that get what that means) back into my uterus and have 3 frozen now (day 5 BA hatching, day 5 BB hatching, and day 4 AA). This is amazingly good news!
As well as this cycle went it was not without its emotional ups and downs.  I spent all day thinking about how many embryos were still alive and how many were going to be there tomorrow or on transfer day. To make matters worse I didn't know the actual day of my transfer until I was practically on top of it. I found out we would do a day 5 transfer on day 4! This, hopefully, explains why I freaked the fuck out and couldn't talk about it anymore. I was already thinking about it all pretty much constantly and then other people wanted information and I just frankly couldn't stand to think about it anymore. All in all a very good outcome for our first IVF. I'll remind you that having an embryo transferred back does not guarantee a pregnancy. But we were off to a good start. More later… Stay tuned folks.
Glad to be back.
Unpregnant Chicken