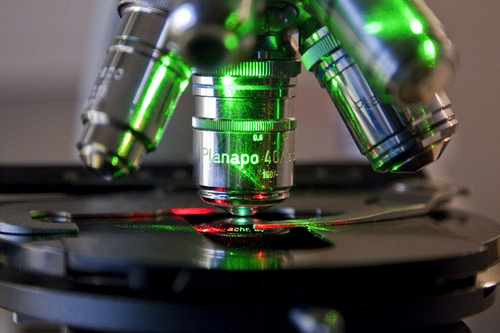 Hello Lovelies,
Embryo transfer was a very cool experience. It was so cool that I said to my therapist a few days later that I actually LIKED the IVF journey. And, without any hint of irony, I think I meant it at that point! It's just so magical, you get to SEE the living thing that they are going to put back inside you and then you WATCH IT HAPPEN.
Surreal.
Incredible.
AMAZING.
Here's how it all got started: On day four after egg collection we got the update we had been praying for and found out we had embryos that made it to morula stage. YAY! I was cleared then for a day 5 transfer of one blastocyst stage embryo. I would not find out the numbers and grades of the embryos that made it to blastocyst until I was at the clinic for transfer the next day. I really wish that the clinic had given me a Valium for the night before the embryo transfer, like they had for egg collection. I did not sleep well. I was WAY too excited.
I woke up early the next morning. My appointment for transfer wasn't until 10:30 but my acupuncturist wanted me in for two treatments that day to help my body be relaxed and accepting of the tiny baby, the first one happened before the actual transfer. So off I shuttled to acu at 8:00am. It was a good idea. I had a hard time unwinding but after the full 60 min on the table I was much more relaxed than I had been going into it.
We then had a little bit of time to grab breakfast and head over to the clinic.
It was nerve wracking sitting in the waiting room beforehand. The 15 min before we were called into the operating specific waiting room were intense. But not as intense as actually being called. When they called my name I thought I might puke everywhere. The time was here!
In a moment I'd see the baby that was going back inside me. Nothing else mattered.
Click To Tweet
Not even my bladder.
It needs to be full for transfer to get the best picture possible on the ultrasound.
I drank a full liter of water in the waiting room.
A liter.
…Comfy.
But it didn't matter! I was going to get to see the embryo! The actual embryo that they would transfer back to my body! AHHH.
So I waited semi patiently as they got me all checked in and as we waited for the embryologist sitting on the OR table. I was clutching hubby's hand pretty tight and kept bursting into nervous laughter. When the embryologist finally did arrive and handed me the picture of our potential baby I didn't really even know what to do with it. I just stared at it. Long and hard. It was so crazy.
I know what blastocysts are supposed to look like. And mine looked like I expected. A tiny cluster of packed cells that will be the baby, a ring of cells along the edge of the egg that will become the placenta, nice fluid filled space in the middle like there should be. How cool! The embryologist said that it was a very nice quality embryo and that my odds were pretty good.
Then they asked me to lay down as and they prepped me and did the mock transfer (inserting a catheter in through the cervix to make sure it's the right sized one) and the whole time they were showing me the actual embryo on a tv screen. As in, there was a microscope in an adjoining room where the embryo was in a petri-dish, and we were looking through it. I wish they would have zoomed in more, it looked a lot like a speck of dust to be honest, but it was cool none-the-less.
Then it was time for the real transfer. I watched in awe as the embryologist sucked the tiny spec baby into a glass straw and then he WALKED INTO THE ROOM HOLDING IT! OMG. Then a scary thing happened. The catheter got stuck three times as they tried to get it in past my cervix again! AHHH. No good. So the embryologist whisked the microscopic speck baby back to the safety of the petri-dish in the other room. They waited until the catheter was in place the next time before asking him to bring it back in the glass straw.
Finally, though they got the catheter back in place and loaded the little baby inside it. Then we got to watch on an ultrasound as the next part happened. They showed me my uterus, which they said looked wonderful, and you could see the catheter as a long line running the length of it. Then the Dr pushed the plunger on his syringe and out of the end of the catheter shot a tiny white pearl.
That tiny, glistening pearl was our tiny spec baby!
Click To Tweet
When they withdrew the catheter the little pearl stayed there. It stayed right where it was put- in the most soft, safe space in my uterus. It was amazing. I wish that I could do it better justice. Like write it a sonnet or something!
I would have liked to have had a picture of the gorgeous pearl sitting in my safe uterus but, unfortunately, I picked that moment to laugh again and it jiggled the ultrasound image at the exact time that the nurse chose to freeze it. Sigh. So instead of being able to take a picture of it I was left staring at a jumbled, squiggly screen instead. Just my luck.
Then everyone left the room except my husband and I. I had to stay there in the stirrups for 10 min before being allowed to move. Not that it mattered, I didn't want to move. I hardly wanted to breathe. I had a tiny baby. Inside my body! No matter what would happen in the next few weeks, at that moment, I had a living thing inside me. I don't think we had ever been this close to a pregnancy before. It was awe inspiring and utterly terrifying at the same time. We took this time to look at the picture of the embryo they had just put back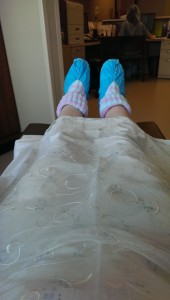 into my body and to stare lovingly at each other. If nothing else worked out at least we knew we had done it. We had made a gorgeous embryo and it was alive right then. When the nurse came to tell me I could get up and pee I was terrified to do it. Even though my bladder at that point was basically about to burst. What if I peed it out!
Well, apparently your uterus is like two hand pressed together. It lets things in between but then cradles it closely, the embryo wasn't going to go anywhere. Or so they assured me. So I went pee and hung around for the next 20 min with my feet up. See my fancy transfer socks (Thanks "A" on Twitter!) and the special blessed blanket?! Bring all the luck with you, ladies. I figure it can't hurt.
Then we made our way back to the acupuncturist for my follow up treatment. The follow up acu appointment was only a half an hour session and ended with me getting tiny metal ball bearings taped to different pressure points on my ears. They were not comfortable. They stayed on for over a week. I was also told to get a pineapple and eat the core for the next five days to help aid implantation. Something about the high concentration of selenium in it or something. So I did. Then we got some celebration food and laid on the couch the rest of the day trying not to jinx the whole process and trying to be positive and happy. It was exhilarating and also scary. Overall, it was a very amazing experience and I am grateful to have been able to experience it. Not everyone, no, almost no one, gets to see their baby before it's even in their body. Very surreal.
Then began my two week wait period. I was officially PUPO- pregnant until proven otherwise. My clinic waits a lot longer than other clinics to let you test for pregnancy following IVF. Most clinics do testing at 9 or 10 days after transfer. Ours waits until 14 days after transfer. Torture. Waiting… it feels like that's all I do. So, in the meantime, here is a picture of our "baby bean sprout". It was a day 5 AB hatching blastocyst. Gorgeous isn't it!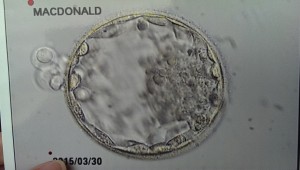 XOXXO,
Unpregnant Chicken