Hey there Lovelies,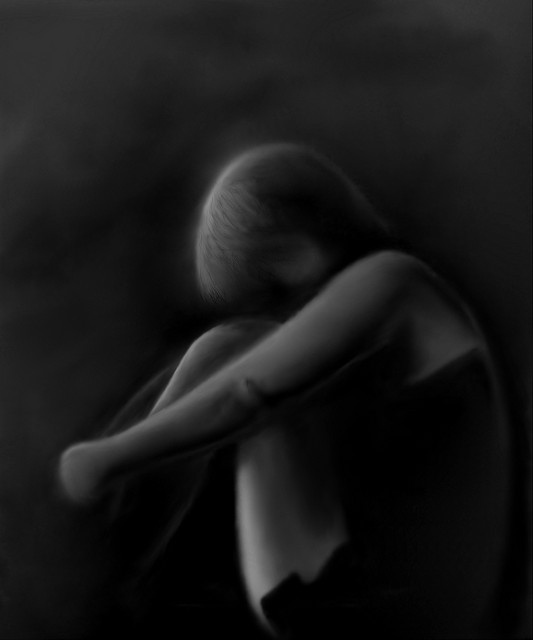 There is a thing that happens when you are riding the roller-coaster that is infertility. There are major mood swings: up and down, up and down. Every month. Multiple times a month. During the ups you start to feel almost normal and things are good but then, inevitably, something will happen to plunge you into the pits of hell again.
That's where I am today, in hell.
Or at least I may as well be. I scream and claw my face as if I'm on fire. I feel so low that it's impossible to imagine getting back up again. I'm so deep into the hole that it feels as if I'm at the bottom of a well, where sunlight barely reaches me, and pretty things are dulled and grey and out of my reach.
Depression.
I don't always feel this low. Trying to conceive has been taxing on me and yes I'm often sad. But this is different. Sometimes the roller-coaster dips me way past sad. Then I really fall closer to depression on the emotional scale than just run of the mill sadness. How close you fall and how strong the pull is depends on a lot of things: your personality, your genetic predisposition to depression and the circumstances for what set you off.
What was it that plummeted you into hell this time?
Click To Tweet
Here's the thing to know about depression/grief over infertility– There is really nothing you, or anyone, can say to ease that hurt. Well, unless you can turn to me and say "Mrs. MacDonald, you're pregnant!" but I suspect you can't. I know it's hard to watch me struggle. Trust me it's scary as fuck from this side of the coin, too. I assure you, I'm doing everything I can to fight for me: To remember how nice the summer was, or how much fun training my dog can be, or how there are amazing things coming for me just over the horizon. I promise I'm not giving up. But right now I'm stuck. Right now it's hard.
Right now I can't find my feet. It's like getting socked in the gut in a boxing match. You collapse to the floor, hardly able to breath. Eyes whirling around in your head you claw for purchase on the ropes and scream inside your mind that you must "get up and keep fighting". But when it first happens, when that punch knocks you on your ass, you can't. You can't do anything except struggle to catch your breath.
So when I am in this place, this dark peice of hell, you cannot help me. As much as you desperately want to console me. As much as you try to find the right things to say. It will not help. Just like yelling at me after a punch to breathe wouldn't let my diaphragm unclench and let me take in sweet oxygen. Nothing you are saying to me will actually reach me where I am today. Yet you try… Why do you still do it? I suspect you can tell from my dead eyes that your words of comfort aren't hitting their mark… so why?
You do it to make you feel better.
You don't do it for me.
Click To Tweet
You do it to remove the discomfort that you are feeling. You do it so that you can stop the crazy look in my eye. You do it because, frankly, I'm scaring you. I'm making you afraid by showing you a side of humanity that we often don't see. The raw anguish of a shattered ideal. The broken shards of life that I'm desperately trying to hold together. The look in my eyes that reminds you just how close we all are to the edge. What might make us jump? What might make us snap?
I remind myself of this as you say to me "It'll be alright" and "You'll be a mother someday" and "It will always work out in the end" or my favorite "You need to try 'X'"… I know that you aren't really saying these things for me. So I smile a loose smile and nod my head and maybe hug you back. It does help you after all, even if it's not going to help me. There's no harm in at least allowing you to get it out and make you feel better.
But, in truth, I find little comfort in your words.
Click To Tweet
Let's break them down and analyze them. You say– "It'll be alright." Really? In what way? In the way that I'll be able to go to sleep tonight and not be woken by nightmares every hour? In the way that I'll notice the flowers on the table and appreciate their beauty again? Or did you mean that no matter the outcome I'll figure my shit out and stop looking so damned scary? I fucking hope so because I'm so afraid that I won't that I've all but stopped looking in mirrors.
"You'll be a mother someday." I seriously need to borrow your crystal ball then because I would love to have even a shred of that certainty. While you're at it, will you please tell me EXACTLY when? That way I can go back to feeling more even keeled and not so balanced on the razor's edge of emotion. If I knew that I would be a mother someday I would be feeling buoyant, I would be doing fun things "in the meantime". I can't though because I'm not at all sure that I will be. I'm not at all sure that it's in the cards for us to be parents. I really don't know how this will pan out. Not everyone becomes a parent.
"It'll all work out in the end. If it's not alright it's not the end." Nice platitude. Stuff it. If it works out in the end you've either been incredibly lucky or you worked your ass off to survive this hell hole and reclaim your former life in some respects. When you say things like this you trivialize how hard it is to get through it RIGHT NOW. I really can't see past tomorrow at this point never mind to some mythical place where I will have reached the "end".
"You should try 'X'." I know. You want it to work for me. It's so unsettling that I've been trying so long and have had no success. It feels wrong, like there must be a way to 'fix' it. I know because I feel that way too. But I've tried it all. Saying these things feels helpful, after all it worked for your mother's-uncle's-cousin's- daughter. The thing you are missing is that there are many reasons for infertility. Just because something worked for your friend does not mean it will make a difference for me. Just because a friend you heard of had another friend who tried for years and then just became pregnant doesn't mean that will be the case for me. All this does is drag me down deeper into the hole. It makes me feel as if I'm failing at this. That if I just tried harder, or tried the right things, it would work. This kind of talk does nothing to help me right now.
After you have spoken your useless words to me I'll typically thank you from the bottom of my heart for all you've said. Then I'll walk away and cry some more. You wonder what else you could have done to help. You wonder how to be a better friend. You feel like shit, because depression is uncomfortable and makes you uneasy. But here's the god's honest truth…  you should just stop.
I'm giving you permission to stop trying so hard.
Click To Tweet
Truly it hardly seems worth the effort.
When I am this low your words barely reach me and the ones that do don't numb the pain and agony of this ride. So don't beat yourself up. I'm sorry I'm making you uncomfortable. I want to go back to being the positive bubbly me, too. I'm trapped in here but I'm trying. In the meantime tell me "You're sorry". Tell me "You love me". Tell me that "You'll be available if I need you".
And then just shut up.
I'm exhausted. I'm fragile. I'm broken.
I hardly have the energy to breathe let alone make small talk about my pain. Put on a good comedy in the background. Braid my hair. Let me stew and figure out a way back to you. I'm so sorry… I'm trying.
Unpregnant Chicken
*Update: As with any really raw post I take time to distance myself from the emotions I have written before posting. I wrote this post two weeks ago. I'm feeling much better now but it doesn't make the emotions of this post any less real and valid. Infertility is a horrid bitch and can suck the life out of you. Please, if you are someone struggling with depression or thoughts of suicide, seek help. I have my support system in place for times like this which includes a wonderful therapist. I highly recommend therapy with a trained professional during infertility. If you are in crisis please seek help immediately, you are worth it. XOXXO*
This is a list for current Suicide Prevention Hotlines by country… Be well: http://en.wikipedia.org/wiki/List_of_suicide_crisis_lines