Hello Lovelies,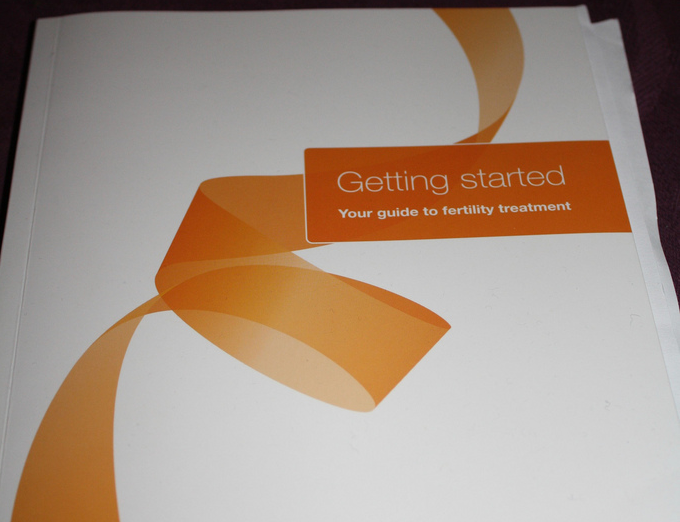 I made it through the appointment without tears! YAY! IVF protocol has been decided and all my new labs have been given to me. I'm a happy camper today. All my test results look very similar to last year:
FSH (Follicular Stimulating Hormone, you want this level below 10) = 6 as always my FSH comes back looking fine, not low but fine. This good number is why my low AFC count last year was so surprising.
AFC (Antral Follicle Count, a number of 12+12 would be normal for my age) = 9+7 slightly diminished reserve for my age. Suggests I might have a sluggish response to IVF stimulation but is not so low that we fear it won't work.
E2 (Estradiol level, you want it under 100) = 76 gorgeous. Bang on normal.
AMH (Anti-Mularian Hormone, want a level between 0.9-9.5, higher numbers are better) = 1.5 this is the first time I've had this test done. This result is low- normal and combined with my age gives me a diminished reserve and the I'm in the 10th percentile of young healthy fertile women. I'm so glad that I asked for this test to be done. Without this test I just have a randomly low follicle count and all other hormones look normal. When we add in this test it becomes more likely that I really do have a lower reserve of eggs than expected and we should proceed with that in mind.
These tests put me very borderline for Diminished Ovarian Reserve (DOR). My first Dr. said early stages of DOR and we would need to be more aggressive, my new Dr. keeps saying it's not THAT bad and I'm more like Unexplained.
Umm, I don't think so.
Here's why that rubs me the wrong way. All my test results are normal. Except that my AFC and AMH are both considered low for my age and indicative of diminished reserve. They aren't in the catastrophic range no, but they aren't "normal". If we have results that suggest something is off then it isn't unexplained. If we have an idea what might be causing our problems then it isn't unexplained.
In my mind the original diagnosis made by Dr. Bitch-Face is likely true. Early stage DOR. I appreciate that Dr. Green-Eyes is reassuring me that it's really not that bad and I should still respond really well to stimulation during IVF. But let's not pretend the issue isn't my eggs. If you have any INKLING that it's my eggs then act accordingly, please. Especially if the alternative is shrugging your shoulders and being all like "we don't know". I suspect he was just trying to reassure me about the results and not freak me out. I suspect he also thinks my eggs aren't awesome because the protocol he chose for me does reflect that my eggs may be an issue. So let's not cushion me Dr… early DOR is still most likely.
I have accepted a modified antagonist IVF protocol for March. YIPPEE! The next time I start my period I will be in an active treatment IVF cycle. Holy Moses.
Here's what that means:
1. I will not be down regulating. This is the process by which hormone medications are used to shut down your ovary or put it to sleep. I will be skipping this step, which usually happens the month before an active cycle, because we are concerned that if we shut my ovary down it may not wake back up properly. I will start stimulation medicine the third day of my next period.
2. I will be using an antagonist (Cetrotide) instead of an agonist (Luperon) to prevent my own ovulation. Remember that growing lots of eggs means we do NOT want to ovulate. I don't need septuplets, thanks. Again the distinction appears to be in the not wanting to shut any of the processes down in my body. Using an antagonist means that my body still produced an LH surge in response to all those eggs but my receptors are blocked and my body won't recognize it. If I used an agonist instead it would actually prevent my body from producing an LH surge in relation to all the big fat follicles I'll be growing.
3. I will be on a slightly higher dose of stimulation medication (Gonal-F pen and Luveris) than a regular cycle in order to produce the max amount of eggs possible.
So … in review. The Dr. chose an IVF protocol that utilizes an antagonist (one of the recommended cycles for a diminished reserve patient) and isn't down regulating me (for fear of over suppressing my finicky ovaries) and I'm starting with more stimulation meds than usual (to help plump those puppies up). But yeah, seems unexplained to me :P.
I'm very happy with the planned protocol and feel like it walks a great line to get nice eggs with my levels.
I also found out my dates, or approximate dates, of my procedure. All of these dates are dependent upon the date of my next period. I have irregular ovulation and a short LP and so it's hard to determine exactly. But here are the approximate dates for all the juicy stuff:
March 10-13: Day two of cycle i do first baseline blood work and ultrasound in order to accurately measure changes caused by the drugs. I start stimulating my ovaries the following day with Gonal-F and Luveris. Continue with this med until the 22nd.
March 14-17: Add in the antagonist medication Centrotide to make sure that my body doesn't ovulate all the eggs. Continue with this med until the 22nd.
March 15-18: Next ultrasound and blood work to see how I'm responding to the drugs.
March 22-25: End ovarian stimulation medication. At this point I may be having ultrasounds every two days. "Trigger shot" Ovidrel to mature eggs and prepare for retrieval.
March 24- 27 Egg retrieval. This is when they remove all of the juicy eggs I've been growing and stick them into a dish with Hubby's swimmers. If we get pregnant this cycle this is the date of conception (OMFG!!)
March 27- 31 Embryo transfer. Could be two day 3 embryos or one day 5 blastocyst. We won't know until day 3 of development which is preferable. After Transfer I'm considered pregnant until proven otherwise. Wait and pray for implantation.
April 6 ish test date. Which is also Easter/Oestara. Fertility celebration? Renewed life? Um… yes, please! This seems like a great omen. Trying not to fixate on this and go crazy. Well, crazier. LOL
So there you have it! All you ever wanted to know about what's gonna happen during IVF protocol for yours truly. I will update on each of the steps as they occur. Don't you even worry about that. Thanks so much for all the support, you wonderful people! I have been so touched by all the well wishes from you.
Sending all that love right back atcha,
Unpregnant Chicken
*Update: click here to see my Week One: Stims update*