Hello Lovelies,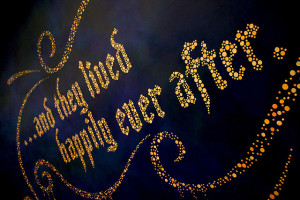 You guys have no idea how excited I am for this post. 1) I think it's brilliant and funny, if I do say so myself, and 2) I'm a closet Disney freak, and I got to spend so much time looking at pictures and sites about the princesses for this! *Gleeful Clapping*
Ok, back up. Yes, I love Disney. Yes, even the stupid, vapid princesses. Much to the horror of my more feminist and intelligent ideals. Moving on… So I was day dreaming the other day about all things Disney and had a thought:
"What if these women were infertile?!"
I know, I know, just go with me on this one. It'll be fun. Promise!
Click To Tweet
Fairy tale writers are cowards. They suck you in, wait until you care about the character and then… stop at the wedding. Not every marriage is a fairy tale. There are always bumps in the road. We know that all too well. We all probably know at least one couple who have enlisted the help of lawyers like Peters and may to help them with their divorce proceedings. Not all marriages are meant to last, and not all marriages play out like the fairy tales we read and love so much. Stats being what they are, 1 in 6 couples suffer from infertility, it's likely some of these princesses would've had difficulty producing an heir. Not so good when that's basically part of your job as a princess, I'd love to ask Kate Middleton about THAT kinda pressure. So I started crafting infertile experiences for some of the princesses to suit their personalities. I'm not going to go through all thirteen of the current princesses, no thanks, but will pick and choose some of my fav's to share with you! I tried to represent many of the causes of infertility and the different outcomes of treatment. I hope you find this hysterically funny and also interesting.
Here we go!
Cinderella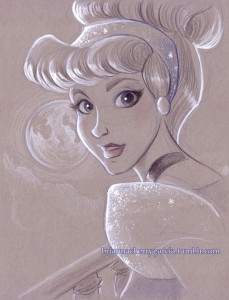 After beating the odds and marrying way, way up Cinderella finds that all those years of huffing cleaning products, how else do you explain the talking mice, have left her sterile. Being that they are enormously rich she and Charming try everything. They fly in the most expensive Dr. who orders the most cutting edge treatments. However, being that she is sterile- not simply infertile- it's all of no use. She is told she will never have children. Stuck with no ability to have her own children she's left choosing between remaining childless or adopting. Cinderella decides that adoption just isn't for her. Let's be real, no one has mommy issues quite like Cinderella! She can't imagine being able to love an adopted child as her own, since that was never her experience. Luckily for her, after a long-ass vacation, her fairy godmother returns. Forgot about that bitch, didn't you? Faster than you can say "Bibbity, Bobbity, Baby"… fluke natural conception. What do you want from me, people? All her dreams coming true is the freaking tagline of the movie! My hands were tied. Ok, ok. Maybe, because she spent time thinking about all those un-adopted babies and fearing that they wouldn't be adopted by loving moms, she and Charming set up a huge state orphanage and they ALL live happily ever after.
Ariel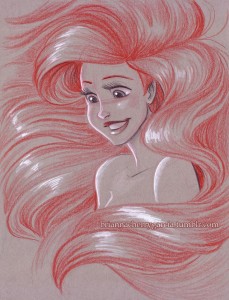 So she gains legs, marries Eric and leaves behind her ocean home. Must be lonely up there on land. Where everything is foreign and people don't use forks to comb their hair. To alleviate her loneliness Ariel and Eric set down to having babies fairly quickly. Even though she is, at best, 17. *eye roll* The one thing her ridiculous age has going for her is that she should get pregnant with no problems. I mean, did you see how many sisters she had? She obviously comes from a very fertile family. Unfortunately, things don't always work out that way. We all know that just because you're young and your family sneezes babies doesn't mean you'll be so lucky. After a fairly short time trying they do conceive. But their road isn't going to be that easy. A short time later Ariel suffers a miscarriage. This pattern repeats itself again and again. Poor Ariel, she seems to get pregnant quite fast but always loses the baby. Many rounds of testing with a Dr. follows and it's discovered that she has some chromosomal abnormalities. Um, hello? She's technically half fish! It turns out the different structure of her mermaid chromosomes doesn't play well with Eric's plain old human ones. They're unable to have children. They make the choice to not adopt and remain childless. Ariel would never say "Child-free". She develops lots of extracurricular pursuits. Huge exotic fish collection, anyone? Yet, she is never fully able to get over the loss of those precious babies. She throws herself into her roll as aunt for all her sisters offspring but never feels completely whole or understood by her family.
Belle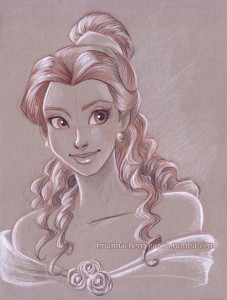 Belle is smart and interesting and the most highly educated of the princesses. So it makes sense that after she and Beast get hitched she wouldn't take baby-making lying down, er, you know what I mean! This bookworm already knew so much about conception and pregnancy that they jumped right into the deep end. No lackadaisical efforts here. She wants a baby. Right now damn it! Its all temping, OPK's, and timed intercourse from day one. When things don't happen right away for the love birds she dives back into her books looking for answers. You name it, she did it: Yoga, acupuncture, diet changes, meditation at an ashram, nutritional supplements. Sadly, all that work and she still doesn't get pregnant. So she jumps right to the next thing and signs herself up for a great RE. She got the one with the best reviews on Yelp, naturally. She showed up to her doctor's office knowing almost more than they did about the treatments they offered. She was a very active participant in her treatment. Through sheer brain power and force of will they tailor many treatment cycles. Finally, they hit upon the magic combination of options and Belle becomes pregnant through IVF. She and beast finally have a baby. After she gave birth she reflected on the amount of knowledge she'd gained about the infertility process and decided to help others. Not everyone can be as smart as she is, ok?! She now stays home with her child and councils others on their options via the world wide web.
Jasmine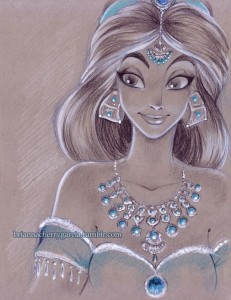 After everything goes right for Aladdin and Jasmin at the close of their movie they settle into the lap of luxury at her palace. Only one thing is missing. A tiny grandbaby for her dense daddy-sultan to fawn over. I think we can all agree that there's no better candidate for "annoying father-in-law demanding grandchildren" in the Disney scheme than him. Jasmin's father is like an overgrown child himself. Remember the scene with his toy menagerie? Oh the pressure! *Shudder* Cue baby making. They try and try and try but nothing happens. They consult a doctor to run some tests and discover that Aladdin has azoospermia. Meaning, he has no boys swimming in his spunk. It seems that he underwent cancer treatment as a child, poor thing! Luckily, since Saudi Arabia has national healthcare, that was covered… even though he was dirt poor. So, while he beat cancer and got to marry the princess he won't be producing children any time soon. They take some time to discuss their options, unsure of if using assisted reproductive technology is best for them. Then, Jasmin's heart races back to the tiny orphans she saw when she used to sneak out of the palace. She knows what she wants to do. She has always had a soft spot for the poor and underprivileged. They decide, happily and easily, to become parents through adoption. In all likelihood several times over. The sultan now has a gaggle of grandchildren to play creepy toy animals with.
Mulan
Not ready to settle down at the end of her movie Mulan continues to be a leader in China. She and Shang date, but that's it, for a long time. When she finally feels ready and chooses to settle down she and Shang discuss the possibility of children. They take some time to enjoy married life as a couple first and really getting to know each other. You know, since he mostly only knew her as a "man" before. After a six months of trying her Dr. recommends they seek further treatment as she's not getting any younger. With testing they find that she's missed her fertility window all together and is unlikely to conceive on her own. While Mulan feels a great duty to continue her family line and appease her ancestors she is simply unwilling to go through the multitude of treatments it might take to get there. As she's physically unable to have children the old fashioned way she decides to her family proud in other ways. For Mulan being child-free through circumstance is not much of a burden in her life, after the initial shock and grief wears off. Realizing all she's done without children thus far Mulan decides to be an agent of social change and leave her legacy that way. She stands up for women's rights and pushes back against the patriarchy that wanted her to settle down in the first place. Her parents, already of an advanced age, are proud of their daughter's progressive attitude. They help the ancestors come to terms with the shift in priorities their daughter has brought to their line. It also helps that she had that spitfire great-grandmother ancestor who was probably very supportive. You go, girl!
Tiana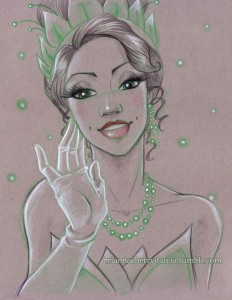 Once Tiana becomes a princess through marriage and everyone gets turned back into humans it's time for her to get down to business– the restaurant business that is! Once she's found love, gotten married and started a business empire…what's left to do but try for a family? But Tiana's cycles are excruciating and she doesn't get pregnant, despite their efforts. After all the usual tests Tiana is diagnosed with endometriosis. As a strong woman it's hard for her to accept that she cannot simply will her way through infertility to a pregnancy. Like so many of us type A ladies, it's a real struggle. But over and above that she feels further marginalized through the lack of understanding from her fellow black sisters. Being the most driven and entrepreneurial princess Tiana decides to become an advocate for the black infertile community. She needed that voice badly when coping with her diagnosis and wants to be their for others going through the same thing. Infertility does not discriminate based on colour, sex or religion, guys. There needs to be room for ALL voices at the table, she gladly accepts that challenge. She does this all while undergoing treatment. She becomes disappointed in the medical community and believes that with further research infertility could be a thing of the past. As infertility has taken over so much of her life Tiana decides to do something productive about it. She decides to become a reproductive endocrinologist. She uses the money from her restaurant to finance her new career aspirations. Tiana's still struggling to conceive and is developing new cutting edge technologies to help others like herself.
Elsa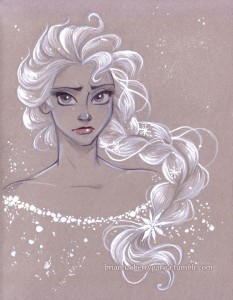 At the end of her movie Elsa isn't paired off with anyone. But that's ok because she's a bad-ass ice queen and no one killed her! Coming that close to death though makes a person re-evaluate their life. She starts to think about her future and the legacy she's leaving behind. Being the actual queen of the realm Elsa needs to produce heirs that will grow and protect her kingdom. You know…Even though she's not even paired off yet. Even though she may, in fact, be Disney's first lesbian princess (unconfirmed, but that would be fucking sweet). Still, heirs will be an issue no matter her sexuality. And let's face it, she's not getting any younger! Her hair's already white! I don't think she's 16 like most of this lot. But getting older or not Elsa isn't just going to jump into a marriage with the first person to catch her eye! Remember how she felt about that when Anna did it? But she needs heirs. What's a girl to do? Well since she's a magical ice queen– she'll freeze her eggs, of course! Elsa was a pioneer who needed no prince so why not be innovative with reproductive technology as well? Lucky for her she can do it herself and won't be charged up the ass. Not that she's short on cash, mind you. She will just freeze her ovary for later use and not have to bother with medical professionals at all. Her eggs are now literally chilling while she finds the man, or woman, of her dreams. Those eggs are patiently awaiting whatever sperm donor the queen shall choose.
*Whew* Well, that was fun! I hope you enjoyed it as much as I did. Basically, the message is: don't think for a minute that those smug princess bitches don't have hard times head of them. Some of them will likely wind up right where we are. With their ass in the RE's chair, breathing deeply, trying not to cry.
Yours,
Unpregnant Chicken
P.S. Like the amazing drawings featured in today's post? They're done by a fabulous artist named, Brianna Garcia. Here's a link to her Tumblr account. Spread the love!